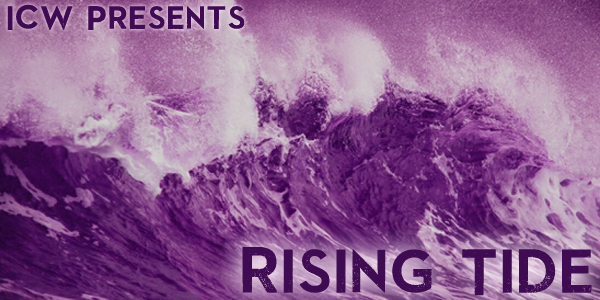 August 19th @ 10 PM CST
La Crosse Center
La Crosse, WI
Capcity: 7,500
(Again, please click the video above and listen to it as you read the opening to the show!)
[The shot opens over a solemn crowd inside the La Crosse Center in La Crosse, WI. The ICW Universe is still in shock. How do we move on from the tragic events of last week? The only way we know how, the only way Shawn Rossdale would have wanted us to, to put on the best show possible. The intimate crowd has piled in to sell out the 7500 seat small arena. The production value is smaller than we are accustomed to on Spectacle and pay-per-view, but the buzz in the air is far from small. The video screen comes to life as "Drop Me in th Water" by Our Lady Peace plays. On the screen, which would normally show the highlights from this past week, are highlights of Shawn Rossdale's wrestling career.
We start out with Shawn Rossdale in his younger days... looking quite like Bobby Barratt actually, young, brash, and full of dreams. He's 29 years of age, and has finally broken through with NWW (New Wave Wrestling) out of the Winnipeg/Minnesota area. The days of wrestlers coming in their early 20's died a while ago. It is 2005, and the time to be a wrestling fan couldn't be better. NWW recently has some strong buzz going about it, and Shawn in this clip is in his very 1st "big time" promotional match. It is against a heavier guy Kuke Dosloff. He's from europe like himself and the match is back and forth.
We see different moves from Rossdale, we see him getting a narrow victory, still on his knees he brushes his longer hair behind his ear and smiles with his wide eyes and looks up to the rafters. His father never wanted him to go into wrestling. It was a waste of time he said. Shawn didn't listen and he alienated himself from his father in a very bad way. Shawn starts to weep some. The video flashes forward to a 33 year old Rossdale. Circa 2009 or so, just before his injury. He's pretty cocky here, feels entitled and has the New Wave Rising title. It was his dream to capture this. This was the 2nd highest title in NWW, but that was his immediate goal. He was never one to shoot too high. The title glistens in the light before a match, and he gets in the ring, looks over to his opponent, and just sticks his tongue out for a minute and makes a cute smirk. He knows it's over before it starts. Shawn Rossdale was always a realist in his thinking. We see a promo clip of him talking in his elegant and crisp brit accent. He's telling someone that he's the reason people come to pay, he's the reason that the fans cheer and hate him at the same time, and lastly... he states that he's the only "Icon" that NWW has ever had or ever will have. The similarities between him and Barratt are only in appearance. Their feel, style and talking seem quite similar.
We see Shawn just after his injury to his knee and more importantly his back. It was a ladder match that caused the technical/high flyer to become crippled. He's in a wheel chair here, he seems older than he really is and quite broken spiritually. The tore his ACL, and MCL ligaments in his left knee. The one he plants to the ground to defeat so many opponents with his "Distortion" superkick. The lethal kick almost always takes an opponent down for the 3 count. His back has a cracked lower vertebrae. The L3 vertebrae. The same one Shawn Michaels had fused several years back. The doctors tell him he'll always walk with a limp and he'll never wrestle again. He'll be confined to a wheel chair for the next 6 months. As the blown knee and back issue prevent walking longer than normal.
We then see Shawn circa 2010 or so. He's out of the chair, a little out of shape, but at age 35 now, he's quite determined to make a comeback. His career was looking strong and he was the #1 contender for the NWW World Title. The injury shot that dream. He has some interest going about, but decides to hang it up for a relationship with his father who was dying. His father would die just a few months later in early 2011 and he stayed much out of the spotlight for that time. His career was over, even though he defied the odds and recovered fully. Intense therapy does this and a person's spirit, and will change medical opinions.
We then see Shawn Rossdale in ICW, suited up, hair in a man bun and being excited about Bobby Barratt. Who he heard of right after his accident but never had the means to do anything about it. He was excited from seeing him early on in 2012 or so. He lived through Barratt even then. His skill, cockiness and his resolve. The song "I'll Be Missing You" starts to play, the music video shows at first, then it changes into the "In Memory" blue and white heavenly picture of Shawn. 1974-
The giant tron flashes to some of the best moments, we see Shawn and Bobby fighting, being held back, so vicious their spit is coming out of their mouths like 2 rabid dogs. Then we see the end. Bobby and Shawn getting on together. We see them high fiving a few times... we see their heartfelt conversation at Midsummer Night's Massacre and then we see the moment when he turned on Jack Diamond, wanted to be with who he thought was the Icon of ICW and wrestling... and as a team they were lethal. ICW was what Shawn really cared about and Bobby Barratt was his pick... his "next big thing". The picture shows back up, forever... Shawn Rossdale. Dead at age 42.]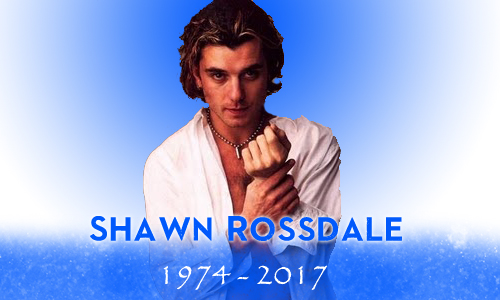 Scarlett LaDawn: Ladies and gentlemen, please stand and let's have a moment of silence for Shawn McGregor Rossdale.
[There is a heavy silence in the arena. One you would never have thought we would see in Icon Championship Wrestling as those in attendence all stand, some holding hands, many of them crying as they get a chance to pay their respects to a man that took a dream and made it a reality as he revolutionized the wrestling business. After the moment of silence, the ring bell sounds a ten bell salute, each chime sending a chilly dagger down all those in attendance. As the tenth bell rings, the crowd errupt into cheers of "ROSSDALE" as the applause rattles the building. The image fades from the screen and the TNT cameras cut to Stanley Prescott sitting ringside, tears in his eye as he addresses the home audience.]
Stanley Prescott: It is with heavy hearts that we are with you tonight folks, for ICW Presents: Rising Tide. I don't know what to say, how to open this show but I firmly believe Shawn would have wanted us to soldier on and that is what we will attempt to do with you tonight. Missing in action tonight, is my partner, Steven Blaylock. He was not emotionally able to be here tonight and asked our general manage... Uh, I guess our owner, Lucas Rieter, for the night off. With me tonight on color commentary, ICW World Champion, Jack Diamond. Jack, wow man, I just don't know what to say...
Jack Diamond: As much of an honor as it is to be on here with you, Stanley, this is just not the way I would want this circumstance to happen. Not a dry eye in the building tonight as we try to honor the man, the boss, the Icon, Shawn Rossdale.
Prescott: You are right about that, while I didn't always agree with the way he ran things around here, personally Shawn was a great guy and one who was very passionate about this company and put so much work into it to see it succeed.
Diamond: Absolutely, there will never be another Shawn Rossdale, and while we had a lot of bad history it is a sad time for all of us here in the ICW. As you said though, I do think Shawn would want us to put on this show for the great people of La Crosse tonight, these special shows were just that, very special to Shawn so let's honor him tonight in what we do best, putting on a hell of a show for you all!
Prescott: I couldn't have said it better myself champ, and what a show we have coming your way tonight folks as, making his return to an ICW ring, Don White will be taking on Maverick. Maverick had a tough loss last week and looks to bounce back and Don White looks to knock the rust off and get back to the status he was known for before leaving.
Diamond: Don White is a tough wrestler, Stan, but he's been away from the business for a few months now and that could very well be the difference tonight as Maverick is coming out of a match with Brett Stetson and Billy Shaw where the three of them really threw down.
Prescott: That's right, what a test for both men tonight and in the main event we have a huge match! Duke Kosloff and Chaos Kid will be defending the tag team championship against the unlikely paring of Bobby Barratt and the Killer Penguin. Do you think they have a chance to knock off your Fireborn Connection buddies?
Diamond: I've been in that ring with both Barratt and Armstrong here recently and I can tell you neither one are an easy task, in a singles match. The question is how will they fair as a team? The Killer Penguin has been doing nothing but talking about wanting to take mine or Bobby's titles since he stepped foot in the door and you have to think that is going to create a conflict of interest tonight! As for the Fireborn, Chaos and Duke have proven they can work together as a team despite the differences in style and in attitude.
Prescott: Speaking of attitude, many of our fans have tweeted and voiced their strong displeasure this week after the scene Duke made online and at the memorial service for Shawn. What are your thoughts?
Diamond: Duke is a monster, we all know that. What did we expect to get from him? Personally, not the time or the place if what I've seen the fans saying is true. I can't really comment on it as I wasn't there when that went down. I would rahter focus on his in ring stuff and tonight him and Chaos should be able to hold on to their titles. Bobby is the number two guy in this company, but I don't believe he will be focused on this match tonight and that could spell desaster for the Penguin, Barratt show before it even gets started.
Prescott: You may be right, lets get the action started Jack, what do you say?
[The lights go to red. "Straight Out the Gate" plays by Tech N9ne. Don White makes his way to the ring slowly. He points to fans with Don White signs as he makes his way to the ring to chants of "WELCOME BACK!".]
LaDawn: The first match of the evening is scheduled for one fall! Introducing first, from Nashville, standing at 6 foot 3 and weiging in tonight at 230 pounds, making his return to ICW... DON WHITE!!!!
[Once in the ring he goes to two separate turn buckles, climbs up and throws his arms in the air. He stands in the ring with an empty look in his eye, waiting on his opponet]
Prescott: Don White definitely looks the part, he seems to be in the zone, this should really be a good match.
Diamond: Yes it should. Don had some amazing matches when he was here previously and Maverick has really seemed to step his game up here lately. This is going to be a fun match to watch Stan.
["Evil Terminators" by Valeriy Antonyuk begins to play throughout the La Crosse Center. The chants and cheers for Don White are slowly replaced by a chorus of boos.]
LaDawn: And his opponent, from Woxford Town, Ireland, standing at 5 foot 9 and weiging in at 212 pounds... he is "The Mercenary" MAVERICK!!!
[Maverick comes out, stops and does his pose, stretching his hands out for a few seconds , like he is soaking in the crowds reaction, which is mostly boos at this point. Chants of "USA" break out as he smirks a bit and walks down slowly, walks up the steps and jumps over the rope to enter the ring and does his pose again.]
Diamond: The crowd is clearly on Don's side in this match, listen to them, they are really happy to see White back in an ICW where he belongs!
Prescott: They sure are! We are ready, referee Jason Myers is ready, and there's the bell! Maverick charges in but pulls up before getting to Don as Don was getting ready to side step him. Maverick is taunting him now, asking him if he thinks he's that stupid.
Diamond: Don staring coldly, clearly not impressed with anything Maverick has to say.
Prescott: Don circles, slowly, meticulously and they lock up! Nice show of strength there by Don White!
[Don White is able to forcefully push Maverick out of the lock up and into the turnbuckle. Maverick bounces off and paces around Don as Don just stares back at him. The lock up again but this time Maverick quickly ducks under and around Don and tries for a german suplex. Don White is able to block it as he throws a couple elbow shots behind him, connecting with Mavericks head. Don spins around, whips Maverick into the ropes and attempts a clothesline that Maverick ducks, rebounds and hits Don White with a big boot as he turns around. White stumbles back and drops to one knee.]
Prescott: What a boot! Maverick getting an early advantage in this one Jack.
Diamond: Yeah but Don didn't go all the way down, doesn't look like Maverick got all of it.
Prescott: Maverick walks over to Don, no Don with a nice double leg take down and now a ground in pound. Veteran move by White there, he baited Maverick in for that one.
Diamond: And now he is really taking it to him. Left, Right, Left, Right. Maverick trying to cover up.
Prescott: Don, back to his feet picks Maverick up and into a standing suplex. No, Maverick shakes out of it, lands behind Don and pushes him into the ropes, follows and rolls him up, Myers is down
1
2
White kicks out! Close call there as Maverick almost snuck one in!
[Maverick had rolled Don up from behind and almost got the three count but Don White is able to kick him off, causing Maverick to stumble into the ropes. White quickly spins back to his feet and grabs Maverick and hits a sidewalk slam and makes a cover but Maverick kicks out just after two. White picks him up and sends him into the turnbuckle. The fans give a cheer of approval as White runs and hits a clothesline and goes for a bulldog but Maverick is able to slip his head out as White goes down to the mat himself.]
Prescott: What a counter by Maverick there and now he turns the boots to Don.
Diamond: This kid definitely fights with some heart, he just isn't making too many friends in the locker room.
Prescott: About that, he first claimed that Rieter had him attacked in his hotel room and now he claims it was Steele. What are your thoughts on that, as Maverick hits a nice elbow drop and continues the assault.
Diamond: It was irrational to think that the Fireborn Connection would attack Maverick in his hotel room. That's not our style. Lucas from day one has claimed that we are only trying to uphold what is right for ICW and that is what we will continue to do. Nothing more, nothing less. Maverick is picking Don White up.
Prescott: Don back to his feet, Maverick whips him into the corner. He goes up top and plays to the crowd as they let him know what they really think. He is unleashing the fists on Duke as Jason Myers counts to 10. So this doing the right thing for ICW, is that what you would call your win last week against Sebastian Steele? Many would say you used dirty tactics to win.
Diamond: I was in a hellacious fight, and quite frankly I wasn't all there mentally after hearing about Shawn. I did what needed to be done to get out of the match so I could start my own grieving process. OH what a spear!
Prescott: Nice spear indeed.
[The match is picking up some steam now. Maverick had been up top punching Duke and as he hits the 10th one he dropped down to the ring and started mocking the crowd a bit. When he turns back in Don White had charged him and delivers a vicious spear. Not able to fully capitalize on it, both men lay in the ring as Myers starts counting. Both men begin stirring around 4, and Don White is the first back to his feet at 7, while Maverick his pulling himself up on the ropes. As Maverick gets on his feet and breaks the refs count he turns just as Don goes for a Strange Kick. Maverick catches his leg, spins him around and drops Don down back first on his knees.]
Prescott: Death Dealer! That could be it! Maverick makes the pin,
1
2
3 - NO!!! Don White just kicks out!
Diamond: How in the world did he get a shoulder up? I thought for sure Maverick had him there.
Prescott: Myers says 2 and a half and Maverick is livid. He is actually in Jason Myers' face right now, telling him it was three.
Diamond: He is wasting a lot of time here. He really had Don right where he needed him, just finish the job man, no need to complain!
Prescott: Maverick walks back over to Don who is just starting to move. Grabs his legs, could be setting up Lethal Intoxication... He's got Don up, LETHAL- NO! STRANGE LAND! STRANGE LAND! STRANGE LAND!
Diamond: What a counter! Both men down again!
[As Maverick lifted Don up to try for his variation of the wheelbarrow neckbreaker, Don was able to catch Maverick before he could turn and hit him with the Strang Land stunner move. The Death Dealer still taking its toll on Don he was unable to make a cover right away as both me lay on the mat, Maverick being out cold. The fans are cheering, trying to will Don over.]
Diamond: Listen to this crowd, they are really getting behind this match.
Prescott: They definitely are and it seems to be giving Don a second win. He is crawling, can he get there. Arm over the chest!
1
2
Maverick kicks out just in time! Wow that was close!
Diamond: It was, and it would be over right now if he had the strength to hook a leg or even put a little more weight across the chest. An arm pin isn't going to work in the ICW
Prescott: I've been informed by the back that mentioning Maverick's finishing move may be in poor taste tonight so we are to only call it a wheelbarrow neckbreaker. Ladies and gentlemen I apologize to anyone who may have taken offense to that as I know so many fans are hurting right now.
Diamond: That's the right call, and speaking of hurting, Maverick has to be hurting after being hit with Strange Land. He kicked out on pure instinct bust hasn't moved much since.
Prescott: Meanwhile Don is sitting, propped up in the corner with a little bit of frustration on his face. He had to have thought that was it
Diamond: I think we all did, he was able to hit that out of nowhere, almost as instinctively as Maverick kicking out. What a great way to kick off our two shows in three nights this week. The boss has to be looking down and smiling on this one Stan.
Prescott: I'm sure he is. Don is back to his feet and walks over to the downed Maverick. He wraps him up from behind, getting ready to belly to back suplex him, no, Maverick blocks it with his leg. Don tries again, again Maverick gets his leg hooked on Don's to prevent the lift.
Diamond: Great awareness there...
[After Maverick successfully blocks the belly-to-back suplex for a second time, Don White smashes a forearm into his back and as Maverick's arms move up on impact, Don quickly applies a sleeper hold. As he gets it locked in tight, the fans begin cheering even louder as they sense the end is near. Jason Myers checks on Maverick who screams no to giving up and Don wrenches the hold on even tighter. Maverick is fighting, but his flailing arms get heavier and slower. He drops to one knee. "LET'S GO WHITE" chants fill the arena as the fighting stops, Mavericks eyes start to flutter and his face changes to a shade of red, then to purple. He is almost out, falling to both knees.]
Prescott: Maverick fading fast here, Myer's checking the arm. It falls the first time. I think this is over Jack.
Diamond: Yeah I believe Maverick is out cold. There is the second arm, and down.
Prescott: Myers raises his arm a final time, it drops...NO Maverick hangs on. The crowd lets out a sigh, they really thought he was done.
Diamond: Hell, I thought he was done.
Prescott: Maverick back to one knee, it's almost like these boos are energizing him. The ref is checking him again and he shakes his head. He's back up to his feet as Don holds on tight. Myers making sure it's not a choke hold. It's clean... but that's not! Low Blow from Maverick!
Diamond: That'll break a hold
[As the ref was checking the hold in the front, Maverick was able to kick his left leg backwards hitting Don with a sickening low blow, and sending him down to the mat. The ref looks back at Don and then to Maverick who just shrugs his arms and falls over top of Don. The ref counts but Don kicks out at two. Maverick slaps the mat and picks Don up. He sends him into the corner. He runs in and tries for a high knee to the head, but Don is able to jump out of the way, causing Maverick to land in a split position in the turnbuckles.]
Prescott: Ouch! Not a good spot to be in for Maverick, really racking himself after the failed Shotgun Rampage attempt. He tries to get off, turns his head, STRANGE KICK!
Diamond: Maverick falls through the ropes and outside of the ring. What a superkick by White, damn near took his head off. This doesn't bode well for Maverick.
Prescott: It sure doesn't, the ref begins to count and Maverick isn't moving. This is going to be it. Don White knocking the rust off in a big way here tonight as the count is up to five.
Diamond: It looks like Don doesn't want his first match back to be a count out victory. He wants to beat Maverick in the ring, I can respect that.
Prescott: You are right, Don is out of the ring and is trying to roll Maverick back into the ring. He better hurry! Wow! Don just got back in the ring right before the ten count. Can you imagine if he would have lost there because he was rolling Maverick back in? That would have been awful!
Diamond: Maverick is stirring now, I think that may have been his plan there, it almost worked out. Don looks around at the members of the Diamond Club, they apparently are feeling him tonight, that's okay he can enjoy them for now.
Prescott: White is up, Maverick is crawling, oh no, he crawled right into position for a powerbomb, Don lifts him up!
[As Don White lifts Maverick into a powerbomb, Maverick starts fighting it. Throwing punch after punch while sitting up on Don's shoulders. As Don loses his grip a bit, Maverick goes for a hurricanrana but Don recovers while Maverick is on his way down and holds on, stopping Maverick. He is able to flip Maverick back, once again, into a powerbomb hold and again Maverick tries to fight it. Don isn't going to be able to slam Maverick, but just before Maverick is able to fight all the way out of it, Don tosses him up and off just enough to turn and on Mavericks way back down...]
Prescott: STRANGE LAND! Center of the ring! Don hooks the leg...
1
2
3!!
LaDawn: Your winner, by pinfall, DON WHITTTTTTE!!!!!!!!
Diamond: Wow, what a devastating Strange Land, not sure I've ever seen it come from that set up, maybe I'll use that for the Stacked Deck sometime!
Prescott: What a return for Don White, one that has to be bitter sweet, but sweet none the less! Maverick put up a tough fight but White was just too much for him tonight. He will have to regroup quickly as he will be facing another newcomer, Danny Ray, this Monday at Spectacle!
Diamond: Yes, great win by Don here tonight Stanley, and you are right, Maverick doesn't have time to dwell on this loss. It is right back in the ring Monday against someone who is being trained by a Monster. You definitely don't want to take that lightly.
Prescott: Speaking of the Monster, the tag team match is coming up soon, but we have to take a break! Stay tuned ladies and gentlemen!

[Just as Prescott sends the show to break, the cameras cut backstage where we see the Shooting Star Champion, Bobby Barratt standing beside a monitor with Jenny Stackhouse. Bobby, visibly upset motions to the monitor.]
Bobby Barratt: What the hell is he doing out there? Like I don't have enough to worry about, enough going on inside my mind, but Jack Fucking Diamond just happens to be doing commentary tonight? This show is supposed to be in honor of Shawn, why the hell would Rieter put him out here for any other reason than to get in my head even more
Jenny Stackhouse: Babe, relax. He was asked to step in for Steven because his emotions wouldn't have let him call the action tonight. You have to focus on your match. Forget about Diamond.
Barratt: How am I supposed to forget about a man that will literally be eight feet from the ring? I shouldn't have even come to this dump tonight.
Stackhouse: Just think though, babe, when you win tonight you will be one title short of have ALL the belts, get that tag team championship and then we will worry about Jack on Monday when you get your chance to be in the world title picture again.
Barratt: You're right. Where the hell is Penguin?
Stackhouse: I don't know, I sent Bud to track him down. You guys have to be on the same page tonight.
Barratt: Yeah because apparently Fireborn Cuntnection is...
---
[Bobby stares on at the monitor, shaking his head as the Jenny tries to comfort him and the cameras fade out into a commercial break. After the break, the scene picks up at ringside with Stanley Prescott and Jack Diamond.]
Prescott: We are back, and Jack just before we went to break, we seen Bobby in the back. He wasn't too happy about you being out here.
Diamond: Yeah, he is clearly more worried about me being out here then this match tonight. I wish I could assure him that I am only here to do commentary tonight and nothing more, but I know he'd never listen to me. I'd only get the cold shoulder again. That's okay, if he doesn't get his head in the game, everything he's work hard for could spiral out of control.
Prescott: So this tag team title match, you weren't assigned this commentary job tonight just for the sake of being out here during it? No funny business right?
Diamond: Stan, trust me, I am not here to mess with this main event. I am here, strictly as a fan tonight, and with the main purpose being call the action in the ring with you and try to pay my respects to the man who built this company, Shawn Rossdale.
Prescott: Well that match is up next, Bobby is apparently trying to find his partner, and Rieter has not been seen or heard from tonight. Things seem to be unhinged champ.
Diamond: Rieter has been very busy since last Monday, Stan, so much so that he has barely had time to grieve for his best friend.
Prescott: Former Best Friend...
Diamond: His Best Friend, Stan. Rieter never wanted this. Sure, there was some bad blood there towards the end, and both parties said some awful things and did some awful things, but Lucas and Shawn were supposed to run this thing together until they retired. You think Blaylock is gutted on this? Lucas has been sick all week long going between feeling guilty for how things turned out to trying to figure out how to handle the whole company now. It's more than just booking for him now, and it's added on to the emotional stress that is already looming large.
Prescott: Well, that makes sense. I really think these fans need him to step up though and take charge. And NOT play favorites.
Diamond: Favorites? Did you see who Rieter put me in the ring with a week after going to hell and back in a cell with Bobby? A Hunter. He put me in there with Sebastian Steele. How is that showing favortism?
Prescott: I guess you have a point there, but there is an awful lot of gold in the Fireborn Connection don't you think?
Diamond: You damned right there is and it's because we all have worked hard for it, nothing was handed to us.
Prescott: Well, I'm getting reports that something is going on backstage. Kip?

[We cut to the back once more and Barratt is getting quite itchy. He's tossed several things around before his match tonight.]
Barratt: I can't go on. I'm not going out there. Fuck them. My mate's gone and I'm not on with this.
Stackhouse: Love, you need to get out there. Your tag team championship is waiting for you. Win it for me. Win it for you, and win it for Shawn!
Barratt: I don't even know what to do...
Stackhouse: Where's your phone?
Barratt: I don't know. I've not used it since that call. I think I've got a couple voicemails or something.
Stackhouse: I'm calling Rieter. We're not going out. Just forget it babe. We need to just go.
Barratt: Great, lets go!
[Stackhouse turns the phone on. He's got 2 voicemails on there. They must of been on there before Rossdale's crash. Jenny goes ahead and listens to them while Barratt thinks she's calling Rieter to inform him of their no show. Barrat is packing things in a angry fashion. Jenny informs him that it's ringing forever, and he just forgets it and leaves.]
Barratt: I'll be outside, the limo is around the corner. I can't stay here love.
Stackhouse: Yeah, it's still ringing, I'll try again... see you in a couple.
[Jenny has been listening to both voicemails that Bobby never checked... as Bobby leaves and goes to the limo.]
Voicemail #1: Hey mate, it's ya boy here. I was thinking. That prick Chaos wants to leave the title at my feet? Who does he think he is? I own this punk. He's a slag man. We have to show him. I was thinking we'll catch him and shake up the odds for you. I'm really happy that we're on the same page. This is how I wanted it from the beginning brother. Catch ya later.
Voicemail #2: I'm almost there to pick you up. I'm in my 74' Firebird, orange. I'll be outside your Hilton. I mailed something to you in the mail, something to help you through. It might be a few days until you get it. I hope you enjoy it. See ya in 10 minutes or so. I can't wait to get the jump on that prick.
[With that Jenny smiles... but puts the phone down. She never intended to call Rieter. She wanted to hear what voicemails Bobby had been refusing to listen to. She convinces Bobby at the limo to fight, in the honor of his fallen friend... he agrees and throws his kit bag in the room and gets ready...]
---
Prescott: Ladies and gentlemen we are back, and have taken our final break so we can bring you our main event, uniterrupted. Well Jack, it's here. Tag Team gold is on the line!

Diamond: You are absolutely right Stan, and all four of these men are dangerous in that ring. Who wins? The well-oiled machine of Duke and Chaos Kid? Or the team of Bobby Barratt and The Killer Penguin? This is what the ICW is all about here!

LaDawn: It is time for the MAIN EVENT! This match is scheduled for one fall, and is for the ICW TAG TEAM CHAMPIONSHIP!

[The lights fade to black, the slow methodical song "Deliverance" from Thrasher 726 begins to play and a spotlight begins to brighten pointing to the top of the entrance ramp. The light cuts to black as the music stops for a split second. Pyro goes off, the lights come on and the song resumes with a super fast rhythm. The Killer Penguin appears on the ramp and runs to the ring]

LaDawn: Introducting first, the challengers. Making his way to the ring from Bluff, New Zealand, weighing in at 182 pounds... THE KILLER PENGUIN, GB ARRRRRMSTRONNGGGG!

[Killer Penguin takes a lap around the ring before jumping into the ring beneath the bottom rope. He pops to his feet and begins to bounce between the ropes as the music rages on.]

Diamond: He really should save some of that energy for Duke and Chaos, he's going to need it.

[Lights go out, Motley Crue starts playing and spotlights swirl on the stage. In his own time, Barratt comes strolling through the curtain with Jenny on one side and Bud trailing behind. Gone is the confidence, arrogance and smugness that is usually apparent. In it's place, a void. A sadness. A determination, as he walks down the ramp.]

LaDawn: His partner, from Walsall, United Kingdom, weighing in at 218 pounds, he is the ICW Shooting Star Champion... THE PRODIGAL ICON!!! BOBBY BARRRRRAAATTTT!!!!

[The fans actually have a respectful pop for Bobby who glance around at the arena, almost as if he is holding back tears. This man lives by the motto, win at all costs and typically this would draw him much heat, but in the atmosphere tonight, it's all about Shawn and everyone in that arena knows that the friendship Bobby and Shawn had developed was real, and the loss cuts deep. Bobby gets in the ring and for the first time all week kind of looks to get a little swagger back as he kisses his index and middle finger and raises them up in the sky pointing to the heavens, and then bounces around a bit, trying to pump himself up. He looks down at th announce table and motions a belt around his waste to Jack Diamond.]

Diamond: You have to respect the guts, the heart, the determination of Bobby Barratt. We all how close he had become to Shawn, this one has to sting, but listen to this crowd. They all seem to be behind Bobby tonight, at least trying to lift up his spirits.

Prescott: You are right about that. Bobby getting some uncharacteristic cheers tonight, and apparently has earned the respect of the world champ.

Diamond: Of course he has, but that doesn't mean come Monday I put him back down in his number two spot where he will forever stay. He can motion for my belt all he wants but it will stay around my waste just as it has every time him or anyone else for that matter has come after it!

[The arena goes dark red and gold lights start to flash as the arena fills with smoke. "Enter Sandman" by Metallica begins to play as Duke Kosloff emerges on the stage alongside Chaos Kid, both holding their tag team titles in one hand. Behind them, Levi Kosloff and Alexis Grace walk out to offer their support.]

LaDawn: And their opponents, weighing it at a combined 561 pounds, representing the Fireborn Connection, they are the ICW TAG TEAM CHAMPIONS, DUKE KOSLOFF AND CHAOS KIIIIIDDDD!!!!

[The champions come down to the ring, Duke, slow and methodical and Chaos focused, staring a hole through Bobby Barratt after the match they had Monday. Duke steps over the top ropes as Chaos rolls under them and they hold their titles up in the air as Bobby just stares on and Penguin talks some trash to Duke after their table match. Referee Brad Dourif steps in and takes the belts, presents them to the audience as all four competitors stand in the ring waiting for the bell to ring.]

Prescott: This is it, ICW Tag Team Gold on the line. We've got Chaos, Duke, Bobby and Armstrong in the ring, Levi, Alexis, Jenny and Bud outside of the ring. Jack Diamond is here, no Lucas Rieter, this thing could pop off at ANY moment!

Diamond: Nothing is popping off tonight but a great tag team match, Stan.

Prescott: There's the bell, and Bobby immediate goes for Duke, they are brawling in the corning, rights and lefts from Bobby. Chaos takes Killer Penguin down in the middle. A couple seconds in and the ref has already lost control!

Diamond: Barratt really taking it to Duke, a week of emotion bottled up and the feeling that Duke respected the name of Shawn has come to a head. Duke goes for a heavy right, Barratt ducks and sends Duke over the ropes with a huge clothesline!

Prescott: We've got a mess out here at the moment, Duke and Bobby to the outside and Chaos has Penguin in the middle of the ring, he picks him up and hits a beautiful snap suplex. The ref leaning outside the ropes trying to get Bobby separated from Duke so we can have some order in this match.

[A fast start to the match indeed. Bobby has been on Duke since the opening bell and as Duke is leaning against the barricade outside Bobby really puts the boots to him. The action inside the ring slows a bit after the suplex from Chaos Kid. Brad Dourif jumps out of the ring to separate Bobby and Duke, Jenny comes over and tries to talk to Bobby. It appears to work as he steps back, looks at Duke who is covering up a bit but laughing. Bobby gets one more kick it, flips him off and walks back to his corner with Jenny where he gets on the apron.]

Prescott: Finally things calm a bit as Chaos sends Penguin into the ropes, Penguin slides under his legs to avoid a grapple, Chaos turns, standing dropkik by Killer Penguin.

Diamond: He really got him good with that one. Duke is back in the corner now, Bobby in his, and Penguin trying to find a way to get some gold he so desperately wants here in ICW.

Prescott: He lifts Chaos and spins him into a hammerlock and drags him to the corner where he tags Bobby. A nice show of teamwork early on here between this unlikely duo. Bobby up top, double axehandle smash across Chaos' arm as Penguin exits the ring.

[Chaos goes down but Bobby is quick to pick him up and delivers a reverse russian legsweep. The momentum of the face first impact sends Chaos rolling towards his corner. Bobby goes after him but stops and waits for Chaos to sit up and gather himself some. Bobby has some choice words for Chaos Kid before pointing at Duke and telling him he wants Duke. Chaos pulls himself up and looks at Duke who is raging a bit in the corner, and nods at him. Chaos makes the tag and Duke steps over the top rope.]

Prescott: Bobby wants Duke, Duke wants Bobby, here we go! Bobby runs in with a forearm strike but Duke shakes it off and pushes Bobby back. Bobby back in but no! Duke grabs him by the throat and walks him back out to the center. He looks to be setting up a chokeslam! He lifts Bobby, Bobby slides out of it, CODEBREAKER!

Diamond: That's definitely one way to bring the big man down. Bobby isn't going for the cover here though, I think he knows it's too early to pin someone like Duke.

Prescott: Or he wants to deliver as much punishment as he can. He lifts Duke legs, Double legdrop to Dukes midsection!

Diamond: I think that may have been a little low there, and Dourif is warning Bobby who just shrugs it off.

Prescott: Bobby picking Duke back up, sends him into the ropes, no Duke reverses and whips Bobby, Bobby off the ropes into a crossbody, caught by Duke. OH! He spins him into a nice sidewalk slam!

Diamond: That takes a little fire out of Bobby so to speak. Duke has him back up, bearhug!

Prescott: He is really squeezing it in tight, Bobby with a blind tag.

[As Duke lifted Bobby up into a bear hug, he was a little too close to Killer Penguins corner who reached out and slapped Bobby on the back, with Brad Douric acknowledging it. Killer Penguin jumps up to the top turnbuckle and drives off with a missile dropkick right into the back of Bobby, which topples Duke and him over, Bobby rolling out of the ring.]

Diamond: Penguin just kicked his own teammate! What is up with that?

Prescott: It was the quickest way to get Duke to release the hold, but Bobby definitely took the brunt of that as he rolls out of the ring holding his back. Duke is back up, another dropkick by Penguin that stumbles the big man. Penguin looks, bounces off the rope OH! Duke catches him with a Superman Punch! The pin...

1

2

Penguin kicks out! That was close, and what a recover by Duke!

Diamond: It sure was, looked like Killer Penguin was going to try for a flying forearm but Duke jumps into him with a beautiful punch. They almost retained right there Stan.

Prescott: Duke pounds the mat in anger for not getting the three count. He's up, makes the tag, Chaos is back in.

[Chaos comes in just as Killer Penguin gets back to his feet holding his jaw. Chaos runs in and clips his leg, sending him back down to the mat. He starts stomping on the leg and knee of Penguin, really working it over. Killer Penguin rolls over and tries to crawl away towards his corner, where Bobby is just getting back onto the apron but Chaos grabs his leg and drags him back to the middle. He lifts his leg in the air and smashes the knee back down into the mat as Killer Penguin rolls over clutching for his knee in anguish. Chaos quickly grabs the leg again and applies a figure four leg lock, falling to the canvas and really wrenching back.]

Diamond: Nice figure four there! Chaos must be taking pointers from yours truly. That's not quite as picture perfect as Ace's Wild but it'll do. Penguin is struggling here!

Prescott: Yes he is, he is slapping the mat with both arms, trying to find the strength to hold on. His back is down, Douric counts.

1

2

Penguin rolls over a bit to break the pin count. He's trying to roll over to transfer the pressure back to Chaos, but no Chaos rolls him back over. OH! Bobby with a huge kick to the head of Chaos to break the hold! The ref tries to get him back out of the ring!

Diamond: For a minute I thought Bobby was going to let his teammate tap out, but he breaks it up at the last minute, strong kick there. Chaos is dazed! Bobby is back out of the ring.

Prescott: Chaos tags Duke, the big man back in the match here. He picks Penguin up and onto his shoulder, runs, trying for a powerslam, Killer Penguin slides out of it and runs Duke chest first into the turnbuckle! Duke staggers back, Penguin jumps to the top turnbuckle, Flying Crossbody! No DUKE CATHCES HIM! He lifts him up back onto his shoulders and crushes him down to the mat with a huge samoan drop! The pin,

1

2

3!! NO! Bobby Dives in just in time to break it up! Oh my, that was close!

Diamond: That was close, I think the refs hand may have hit the mat before Bobby made contact but none the less the ref says no and it's a two count! Duke is pissed!

[Duke gets up and has some choice words for Bobby and spits at his boots. Bobby runs in and forearms Duke and a brawl breaks out again in the ring between the two of them. Killer Penguin is still down. The ref is trying his best to break up the brawl. As they near the corner, Chaos tags Duke and only the ref sees it. Bobby and Duke once again tumble outside over the ropes. Bud walks over but Jenny stops him from hitting Duke, not wanting a disqualification. As they get up, Duke charges at Bobby who sidesteps him sending Duke face first into the ring post, busting him open.]

Prescott: The ref has lost control of half of this match, Bobby and Duke brawl to the outside, Duke is busted open. Meanwhile Chaos lifting Killer Penguin up into a powerbomb, INTO THE TURNBUCKLE! That impact was sickening! Chaos goes for the pin! But the ref is looking outside of the ring! Chaos gets up, and walks over to where Douric is, and tries to get his attention!

Diamond: Yeah, the legal men are in the ring, sometimes you have to let the outside stuff sort itself out. Chaos should have won this match right there

Prescott: Chaos now trying to get Duke to get off Bobby and get back in the match, a match they are well in hand here!

[Duke has gotten the upperhand again in the brawl outside, but he is losing a lot of blood, the post opened him up deep. He sends Bobby into the steps but Bobby reversed and Duke goes smashing into and over the ring steps. Bobby has snapped. He grabs a chair and heads towards Duke, but Chaos Kid jumps out of the ring and grabs it from Bobby and tosses it out of the way. Bobby comes and tries to clothesline Chaos, who is able to duck it, grappling Bobby from behind and running him towards the ringpost to try and give him payback for Duke. Bobby uses his legs to climb the post, flips over and slams Chaos down to the floor.]

Prescott: PRODIGAL ARRIVAL! Bobby hits it on the floor and he goes right back to Duke! Chaos is out, Penguin is still down in the ring. The ref begins his count. Bobby has lost it out here!

Diamond: Someone needs to talk some sense into him before he seriously hurts someone!

[Bobby kneels down and lifts the ring skirt up, searching under the ring. He pulls out his trusty bat, the one thing that will never leave him. The arena lights glisten on the fresh application of barbed wire. Bobby heads towards Duke as the referee breaks his count to run outside and try to get stop Barratt. Barratt shakes him off and lifts the bat over his head. Jack Diamond has thrown his head set down and quickly ran over and jumps in between Duke and Bobby. The camera zooms in and picks up the exchange.]

Diamond: Bobby, stop. Don't do this man, keep it clean! Come on!

Barratt: Piss off! Get out of my way or I'm bashing your head in!

Diamond: Let it go man. Shawn wouldn't want this, drop the bat man.

Barratt: FUCK YOU! You don't know what Shawn would want, don't talk about him like you knew him! You aren't my boss! Rieter is not my boss! My boss, my best fucking friend, is Gone! FUCK THIS!

[Barratt, clearly distraught, forcefully throws the bat into the ground, shoves Diamond out of the way, spits on Duke and storms off and up the ramp. The fans are confused. Jenny and Bud are confused as they follow Bobby up the ramp, Bobby with his head down the whole way. Diamond goes over to check on Duke who at this point has lost a lot of blood. Duke is trying to stand but Diamond is trying to get him to sit back down. Duke shoves Diamond and Diamond shoves him back, prompting Duke to hit a huge elbow smash into the side of Diamond's face. Meanwhile, Killer Penguin is back up and is looking up the ramp trying to figure out where is partner is going and Chaos Kid is just rolling back into the ring.]

Prescott: Ladies and Gentlemen, I don't know what's going on. Diamond is down, Duke is bleeding all over the place. Bobby has left and Killer Penguin is staring up the ramp with confusion! Chaos back to his feet, he runs up and clips the knee of Penguin once again. Duke is back on the apron yelling that he wants in. Chaos makes the tag. Duke in, looking truly like a monster with all of that blood. He lifts Penguin up, hits a chokeslam!

[Duke could end the match right then and there but he is pissed from the brawl with Bobby, he is pissed from losing the tables match last week against Penguin, and wants to destroy his opponent. He picks Penguin back up and drags him to the corner. Duke hops up and sits on the turnbuckle and with brute strength lifts Penguin into a powerbomb. Penguin comes back to, throws a punch right in the gash of Duke. It stings him. Duke isn't in good shape here. Penguin hits him again. And again. Duke pushes him off the turnbuckle and starts to get down. Penguin comes running at Duke, but Duke catches him by the throat and again chokeslams him down. Duke, dazed from the punches in the cut, the amount of blood he has lost from it, stumbles and falls down towards the ropes. Chaos is able to reach down and tag Duke as he falls.]

Prescott: Chaos back into the ring, Duke is down, exhausted. Chaos walks over and drags Penguin to the center of the ring. He makes the cover, its over!

1

2

3!! NO!!! Penguin somehow gets a shoulder up! What in the world!

Prescott: Chaos Kid gets up, and lifts Penguins leg, he places his leg over im and drops a knee! That definitely did a lot of damage to the leg and knee of Penguin. He's hurting bad as Chaos flips him over. He's got it! CDM! CDM! Locked in, middle the ring... Penguin TAPS! PENGUIN TAPS!!!!

LaDawn: Ladies and gentlmen, the winner of the match..AND STILLLL ICW TAG TEAM CHAMPIONS... DUKE KOSLOFF AND CHAOS KIDDD!!!!! THE FIREBORN CONNNNECTIIIONNN!!!!

Prescott: What a match, Penguin took tons of punishment, Duke was busted open. Who knows what would have happened had Bobby stayed out here. What an insane night! Will Bobby have his head straight enough to compete Monday night? What is going on with Diamond and Duke? We are out of time folks!

[Chaos is handed the tag team titles and he drops down to check on Duke, laying his belt acorss his chest. Diamond is leaning against the barricade, holding his head and looking on. We go off the air.]